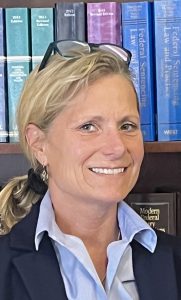 Federal Public Defender, Northern District of New York
Lisa Peebles joined the Northern District of New York Federal Public Defender's Office in August 1999. She was appointed First Assistant Public Defender in 2005 and Interim Federal Public Defender in November 2010. She was officially appointed as the Federal Public Defender for the Northern District of New York in 2013. She is a native of Cleveland, Ohio, and has practiced law in the Syracuse area for the past 26 years. She graduated from Akron University with a B.S. in Political Science and earned her law degree from Syracuse University.
Lisa worked as a clerk in the United States Attorney's Office in Syracuse while attending law school. Upon being admitted to the Bar, she worked as an assistant public defender from 1993-1994 in the Jefferson County Public Defender's Office. Thereafter, she operated a private practice with emphasis on criminal defense matters. She has tried more than 50 cases to verdict, including both civil and criminal. She has handled numerous appeals in the Second Circuit Court of Appeals. Lisa has dedicated her career to indigent defense work and in 2014 the New York State Associate of Criminal Defense Lawyers named her a co-recipient of the Thurgood Marshall Award for outstanding criminal practitioner. In 2021, she co-authored a true-crime book, Scrapped: Justice and a Teen Informant. It was a finalist this year for the national Maxy Award in the category of non-fiction and general fiction books.