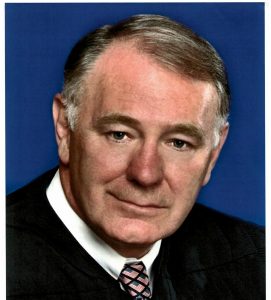 Senior U.S. District Judge, Northern District of New York
Judge Mordue joined the Federal Bench on December 4, 1998, following his presidential nomination and Senate confirmation in October 1998. The Senate voted on Judge Mordue's nomination in just 16 days, the shortest time to confirm any judge during the entire Clinton administration. Judge Mordue served as Chief Judge for the Northern District of New York from March 13, 2006, to December 15, 2011, taking senior status on July 1, 2013.
Judge Mordue played high school football as a quarterback in Elmira, New York and was awarded a full football scholarship to Syracuse University to play under Coach Ben Schwartzwalder. He was a member of the 1964 Sugar Bowl team.
Judge Mordue graduated from Syracuse University in January 1966 with a Bachelor's degree in Economics, and later returned to graduate from the College of Law in 1971.
Following his completion of ROTC as a Distinguished Military Graduate and Distinguished Military Student, he was commissioned into the Regular Army as a Second Lieutenant in the Infantry. After the Infantry Officers Basic Course, he reported to his platoon in the First Air Cavalry Division. While leading his platoon in the Republic of Vietnam, Lieutenant Mordue was awarded our Nation's secondhighest military honor, the Distinguished Service Cross for extraordinary heroism, and the Bronze Star with V device for valor for "courageous leadership and tenacious devotion to duty." He was medically retired as a Captain in December of 1968 because of wounds sustained in combat.
While in law school, Judge Mordue worked for two years as a Law Clerk in the Onondaga County District Attorney's Office. After graduating in 1971, as a member of the Justinian Honorary Law Society and the recipient of the Phi Alpha Delta award for academic excellence, he continued for ten more years as a prosecutor. He worked his way up from Law Clerk to Chief Assistant District Attorney in charge of the Felony Trial Unit and Homicide prosecutions within two years.